Cantilever Bar Racks
Medium Duty Cantilever Bar Racks
Medium duty cantilever racking. Single and double sided cantilever racks for the storage of bar, timber and pipework.
Cantilever racks are designed for the safe and organised storage of long and heavy loads - ideal for timber or metal storage. Our cantilever rack systems are an effective and efficient alternative to conventional lighter weight storage solutions.
Medium duty cantilever bar racks are supplied as starter bays (2 end frames plus bracing) and add on bays (1 end frame plus bracing) enabling the units to be easilly extended to form a row of cantilever racking both in single and double sided options.
Medium duty cantilever bar racking is only suitable for hand loading.
These medium duty cantilever racks are available in a choice of heights, single or double sided units are available.

Medium duty cantilever bar racks are supplied with bracing sets to stabilise the end units, additional end units can be added to the initial unit to form longer runs of racking.
Arms are fully adjustable to accommodate stock sizes.
Medium duty bar racks are suitable for hand loading of goods only, not suitable for fork truck loading.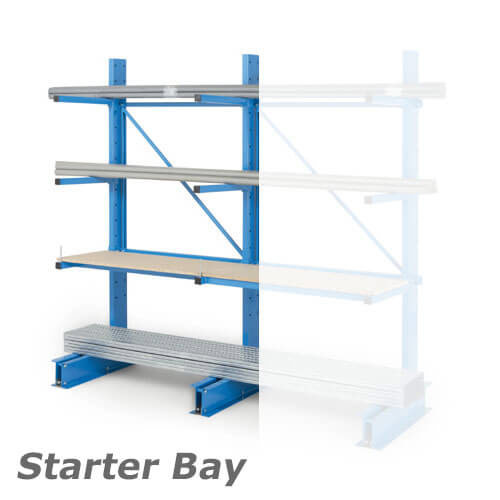 Single and double sided options
2500mm high
1000mm column centre (1500mm column centres available on request)
Starter units and add-on bays
4 lengths of arm 400, 500, 600 & 700mm
Optional end stops
Load capacity up to 184kg per arm adjustable on 100mm pitch
2500mm standard height - other heights available, phone to order
1000mm column centres standard- 1500mm column centres available
Colour: Standard colour Blue Ral 5015 other colours available on request (price & lead times may vary)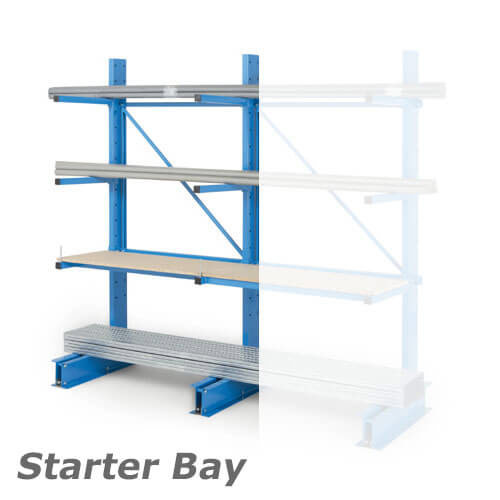 Single Sided Cantilever Racks (1000mm crs)
| | | | | | |
| --- | --- | --- | --- | --- | --- |
| Arm Length (mm) | Arm Capacity (kg) | Starter Unit £ | | Add-on Bay £ | |
| 400 | 184 | 499 | | 289 | |
| 500 | 149 | 529 | | 299 | |
| 600 | 124 | 549 | | 305 | |
| 700 | 106 | 565 | | 315 | |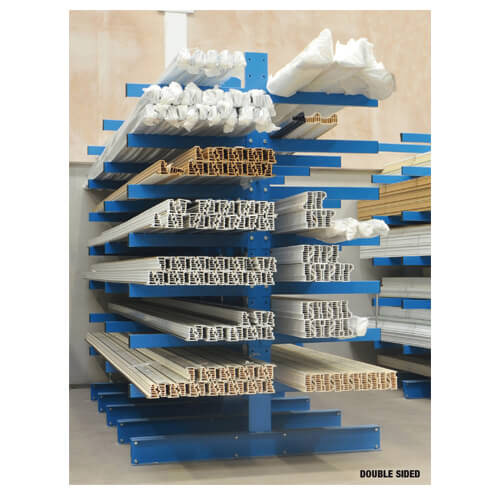 Double Sided Cantilever Racks (1000mm crs)
| | | | | | |
| --- | --- | --- | --- | --- | --- |
| Arm Length (mm) | Arm Capacity (kg) | Starter Unit £ | | Add-on Bay £ | |
| 400 | 184 | 639 | | 329 | |
| 500 | 149 | 675 | | 349 | |
| 600 | 124 | 699 | | 359 | |
| 700 | 106 | 739 | | 369 | |
For 1500mm column centres add £12 per bay ordered

Pitch

Price per bay £

1500mm crs

12




Extra Arms

Arm Length (mm)

Arm Capacity (kg)

Price £

400

184

16

500

149

17

600

124

18

700

106

19
End Stops

Type

Price each £

Arm

4
---